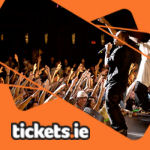 Septicflesh
Voodoo Lounge, Dublin
08/03/2022 19:00
Age Information
This is an over 18s event. You may be required to show ID (driver's licence, Garda / PSNI ID or passport only). Right of admission is reserved. Event subject to government restrictions.
Share this event
Follow Us
SEPTIC FLESH were formed in the 90's. After a demo entitled "Forgotten Path" and a Mini Lp entitled "Temple of the Lost Race" they managed to attract the attention of the French label Holly records, gaining access to the wider underground scene.
Their first full length album entitled "Mystic Places of Dawn" was recorded in April 1994 and gained a very positive response. Then came "Esoptron" that was released in June 1995, a dark opus with deep ancient Hellenic musical influences and themes dealing with philosophy and the occult. Two years later, "Ophidian Wheel" was released.
Female operatic vocals were added to the formula, with the recruit of Natalie Rassoulis. The neo-classical experimentations gained ground, adding a more theatrical dimension to the band's sound.
Ticket Information:

General Admission: €25.00 incl. booking fee
Event subject to government restrictions