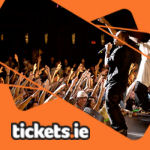 Sunburned Hand of the Man
Anseo, Camden Street
20/10/2023 20:00
Age Information
This is an over 18s event. You may be required to show ID (driver's license, Garda / PSNI ID or passport only). Right of admission is reserved.
U:Mack Presents: Sunburned Hand of the Man
Sunburned are a tight gang of musical artists from Boston, Massachusetts. Formed in 1994 as a way to let off steam from years of obsessive weirdo record collecting and perversely decoding the hand jive of wanton talents from the psychedelic and punk rock hardcore scenes in the Boston zone, Sunburned was born to be awesome. The nucleus of the group, now based Western Massachusetts, is a contingent of fascinants completely focused on the idea of spontaneous composition within the framework of religious experience: the rock n roll EVENT.


Taking it to the stars to see where exactly the light comes from then surfing that beam straight to the O-mind where the kick drum becomes its own sentient nature's heartbeat. Through the years many a legend has passed time dusting their select broom in the delectable maelstrom grooves brought forth by the Sunburned van. They eat the road UP and leave the stage in ashes. Warriors, lovers - they get it "on". - Thurston Moore


Sunburned will be composed of original founding members John William Moloney & Philip Franklin with 20 year Sunburned vets, Ron Schneiderman, Shannon Ketch, Gary War, Ian St, George and probably more...
October 21st:
October 22nd:
Ticket Information:
General Admission: €15.00(Incl. Booking Fee)